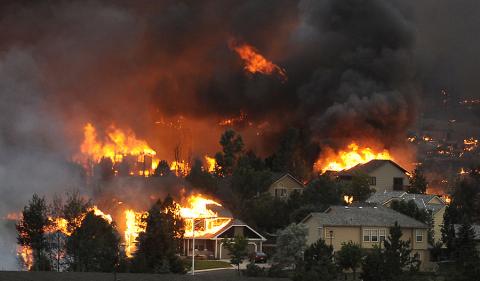 As many of you are aware, Colorado has numerous Forest Fires burning at this time.  It is heart breaking and we continue to pray for all those affected by this tragedy.   I  have a lot of people I know and love being personally affected as well.  Firefighters, their families, friends who have lost homes, you get the idea.
Tonight while looking at Facebook, one of my friends wrote the following post:
Well friends, we lost our home in the Colorado Waldo Canyon wildfire. We were rushed out on Tuesday and it was gone real fast.
We got our photos and pets and a suitcase of clothes.
This will be an incredible journey in simplifying our life.
We are safe and living in a friend's basement. We will look for a home to rent until we can rebuild.
I will keep you posted as I learn from this.
Blessings.
Just a day before she posted the question, if you HAD to evacuate, what would you take?
In a fire storm, you have minutes to get out.  That being said your best chance of getting out with more then your family and the clothes on your back, you must prepare for the emergency before it ever happens.
Emergency Binder:
An Emergency Binder is a 3 ring binder broken into sections of the "important papers" you may need in the future.  Granted these will not save your life, but they will help reestablishing your identity and home.
Birth Certificates, Marriage License, Wills, Living Wills, Social Security Cards, Children's Id's, Adult Id's, Passports, Family pictures to prove you belong to children if separated, money, important phone numbers, allergy information, financial information, front and back of credit cards etc.  ( We also have scanned copies of all of this information and it is uploaded on a server.  We also have uploaded all of our  pictures, movies etc. and are on ICloud)
Here is a tutorial for an awesome Emergency Binder as well as a response to all of you thinking isn't this risky have a binder like that? http://www.yourownhomestore.com/survival-kit-series-week-23-important-documents/
She also has an evacuation plan.  Please read it and adapt it to your family.
Here is another awesome Binder!  Complete, free and download in a pdf format.
http://preparednotscared.blogspot.com/2011/02/moment-youve-ive-been-waiting-for.html
Here is a suggestion for your photos. http://chezlarsson.typepad.com/myblog/2008/07/organizing-phot.html
72 Hour Kits
What is a 72 Hour Kit?  Simply put it is a kit for surviving for 72 hours without any help.  Watching Hurricane Katrina and how long it took to get help to the survivors of that tragedy I learned it was OUR responsibility to take care of ourselves until our City, State, or Country can get there.  That being said, here is a couple of links to help get you started.  You can also click the Pinterest logo on my website and follow my Emergency Prep board that has tons of links.  NO I am not a gun hoarding, zombie fighting, Discovery Channel crazy, but I am a SAHM who loves her family and knows if an Emergency does happen, (blizzard with no power for a week, natural disaster, fire etc.) I need to make sure my family is taken care of.
http://www.parents.com/parenting/better-parenting/advice/emergency-preparedness/
http://scrapbookingez.blogspot.com/2011/06/giveaway-announcement.html
http://lovelylittlesnippets.blogspot.com/2011/07/family-photos-for-your-72-hour-kit.html
http://endlesscrafting.blogspot.com/2011/01/in-case-of-emergencyday-21yesi-skipped.html
http://www.goodhousekeeping.com/home/cleaning-organizing/emergency-preparedness-kits#slide-1
http://lifedesigncraft.blogspot.com/2012/01/emergency-preparedness-for-couples.html
http://hartkeisonline.com/successful-homemaking/nashville-flood-points-to-need-for-household-emergency-preparedness/
As you see there is a lot of information out there regarding this topic.  I hope these links serve a guide of sorts for you and your family. Pick and choose what works for you and your family. 
Blessings,
Chella
Tags: